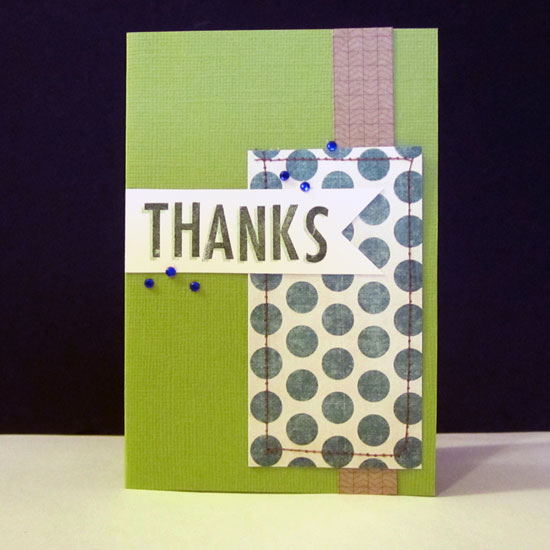 I have recently won a spot (via Lisa Spangler's blog) in Jennifer McGuire's and Kristina Werner's newest class: "Stretch Your Stamp".
So far this is a FABULOUS class with so much information and a TON of inspiration. I will definitely check out their next classes.
The class is broken down into types of stamps (alpha, graphic, etc.) and for each type they have a separate lesson with a ton of non-conventional ways to use these stamps.
I was really inspired by one of the ideas from the letter stamps lesson, which is stamping the letters twice without re-inking the stamp and creating an offset shadow.
I've also just bought Studio Calico's "Stepping Stone" alphabet stamp set. I love the font and the versatility of having a solid and an outline version of each letter. [Another buying option: Simon Says Stamp]
As the letter stamps are all cut to the same length, it is easy to align all the letters together and stamp the entire sentiment at once, rather than stamping each letter individually. It also helps that the word 'Thanks' doesn't have repeat letters…
You should give this double stamping technique a try – it's so easy and the results are really fun.
[Regrettably I found that most of my ink pads dried out, so my results are not the best – but try it with a juicier ink pad and you'd love it]
Now I need the ink fairy to visit, as I just bought a ton of stamp sets (well, 5 setsis a ton for me…) and I cannot play with them without ink. Bummer.
By the way, the stripe of patterned kraft paper is taken from the sheet I designed for the backers of my Journaling Mates. So with each package you buy, you get a piece of this high quality, exclusive patterned paper as well.
If you liked it –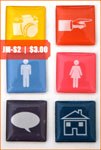 Bring life to your projects with handmade epoxy stickers.
Just $3.00 per package.
6 stickers in each package.
Each sticker measures approximately ¾â€ by ¾â€.