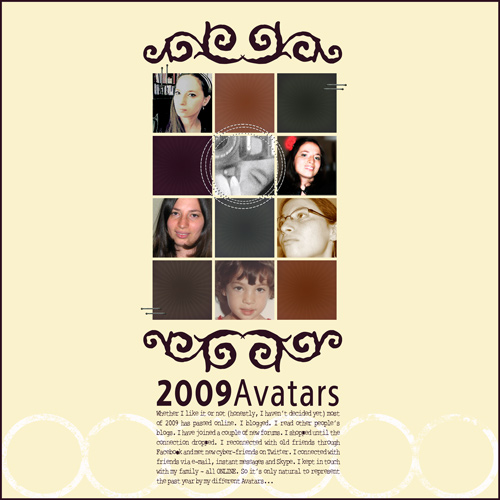 [
Fonts:
Vegur; Rough Typewriter.
Digital Kits:
Karla Dudley's Digi Essentials (Staples & Stitches); Shimelle Digitals
2009 Streamlined Template
; Shimelle Digitals
Starburst Solids
.]
Journaling reads: Whether I like it or not (honestly, I haven't decided yet) most of 2009 has passed online. I blogged. I read other people's blogs. I have joined a couple of new forums. I shopped until the connection dropped. I reconnected with old friends through Facebook and met new cyber-friends on Twitter. I connected with friends via e-mail, instant messages and Skype. I kept in touch with my family – all ONLINE. So it's only natural to represent the past year by my different Avatars…
Looking back at the past year, in a retrospective look that is only attainable early the next year, you can ALWAYS find one dominant recurring theme which is weaved through the entire year. One theme that hasn't changed from the beginning throughout the end.
As it seems 2009 has been a "cyber" year for me. I spent most of my time online – both for business and pleasure (Hello Hulu and live streaming on Netflix. Hello facebook, Ustream and Twitter. Hello poor eyesight and pale skin…).
Therefore I felt like my Avatars on the different social media websites represent 2009 fully & succintly for me.
It may be lame but it is what it is. Thanks god for 2010…
Share
What was your recurring theme in 2009? What do you think will your predominant motif be in 2010? What would you like it to be? Share your thoughts by leaving a comment.
I would love to hear about your past year and predictions regarding the current one.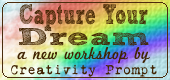 This year you can really make your dream come true!

"Capture Your Dream" workshop is a self-paced, six weeks long workshop, that will walk you through a journey of capturing your biggest dream and making it come true.

In the process of making your dream happen – with lots of inspiration and guided self-exploration, you will also create a mixed media mini album from scratch and learn many tips and techniques – including some photography pointers that will add character to your photos and will help you take better pictures of your projects.

The workshop includes 30 printable PDF lessons with step-by-step pictures and instructions as well as several printable templates you may use in other projects too.

I am confident you will enjoy it and find it helpful so I also offer full money back guarantee while the workshop lasts.