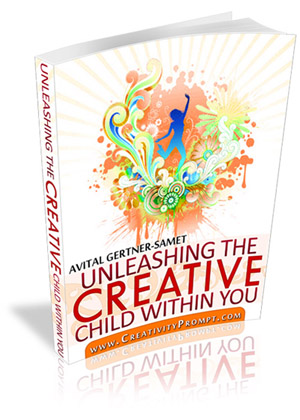 I wrote "Unleashing The Creative Child Within You" while we were living in Dublin, Ireland.
This e-book is, in a way, a travel journal. In it I reduced to writing the journey I had embarked on to find my own inner creative child.
After leaving my country, my family, my friends, my job and my profession I found comfort in reuniting with my core creativity.
My inner child embraced me with pure love, like only children know how. My inner child accepted me unconditionally, like only children (and moms) know how.
Finding the joy of creativity again, recognizing the reasons I had lost it in the first place, was a marvelous gift I gave myself with this journey.
In this e-book, which is available for immediate download as a pdf file, I will pave your way to your inner creative child, brick by brick.
"Unleashing The Creative Child Within You" will explain why you became distant from your core creativity and will reveal the secret to getting it back. With exercises designed specifically to help you find the inner child within you, regain its confidence and unleash it – you are bound to get your mojo back faster than you think.
Your inner creative child wants to come out and play, so don't disappoint it and get "Unleashing The Creative Child Within You".

[If you purchased a workshop lately and waiting for response, please read this important notice.]
Tags: creativity, e-book