Alexandra is an extraordinary keeper of past memories and creator of future ones.
She has a great eye for enchanting photography.
She has fabulous style that shines through her striking layouts and cards.
She has a one-of-a-kind soul that is conveyed by her beautiful words – both in English and in French.
Alexandra is extraordinary.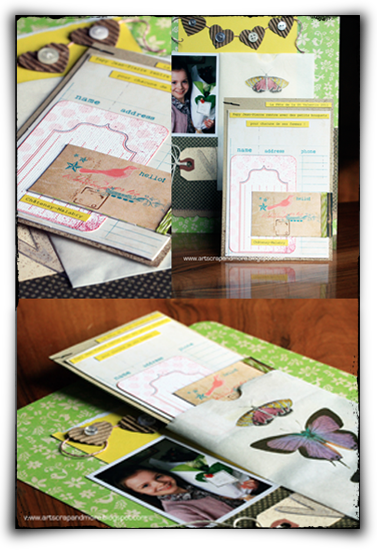 [Distressed frame is from Digi Essentials 11 by Karla Dudley.]
Alexandra sent me these pictures of a layout she created, using the Fancy Schmancy labels I shared last week. Leave it to Alexandra to take regular labels and make something that is nothing short of an art masterpiece with them.
She desaturated the colors of the label with Photoshop and after printing and cutting them, she misted the label a bit to give it more depth and a vintage touch – or in other words, the Alexandra touch.
I love what Alexandra did with my labels. She made them her own.
Where can you find Alexandra?

Check out Creativity Prompt's new and unique self paced workshop: "Welcome Little One". This workshop will provide you with everything you need, and then some, to make a fabulous handmade mini album to record the first moments of a new born baby.
Tags: Alexandra, labels, Reader Highlight