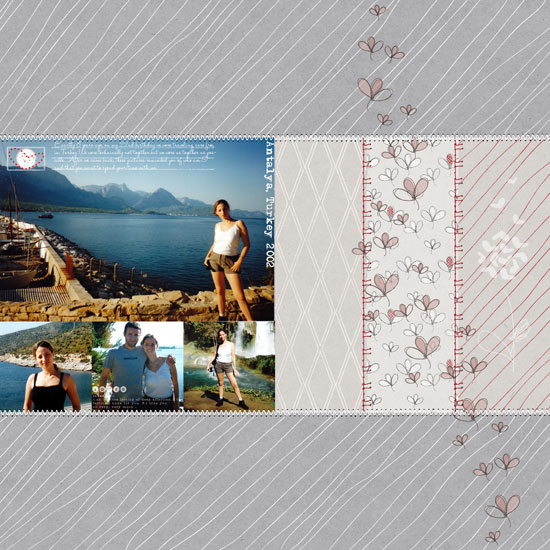 [
Fonts:
Adler and Halo Handletter;
Digital Kits:
mostly "
Be You
" and the white stitches are from
Digi Essentials Elements
– all by Karla Dudley.]
Journaling Prompt
Karla Dudley's new collection Be You has inspired me to look for a picture that can showcase who am I.
I do not have that many pictures of myself, as I am mostly on the other side of the camera… (not such a good idea) but I still have a few laying around. The pictures I have are from different times in my life, so they made me thinking of people and who they are.
People change all the time. They change physically, emotionally, professionally, romantically and in many other ways too.
However, even after a person changes he still carries around with him some of what he was before.
I am not different. I carry with me lots of bits and pieces of what I have been in my life time.
I carry with me an obsession for reading that my 5 year-old self sparked when she started reading on her own.
I carry with me the resilience of my 6 year-old self who overcame a serious illness.
I carry with me passion for fashion and design from my 11 year-old self who wanted to be a fashion designer and draw different outfits relentlessly.
I carry with me the love of writing that my 15 year-old self used when she won two writing competitions.
I carry with me the leadership and responsibility of my 17 year-old self who was the head of her school's student body.
I carry with me the fear of war and redundant hatred from when my 18 year-old self survived an atrocious murder but my best friend's sister didn't.
I carry with me the sense of accomplishment of my 24 year-old self who got her license to practice law after 4 years at the university and a year as an intern.
I carry with me a strong moral campus I got from my 25 year-old self who sought truth and justice and was willing to work 60-hour weeks, sometimes 76… to get it.
I carry with me the joy of tying the knot with my one and only true love, my husband Nadav.
I carry with me the adventurousness of my 27 year-old self who left everything and moved abroad with her husband of 3 months.
I carry with me the ability to cope and adjust from my 28 year-old self who had moved again to another country in another continent, even farther away from home.
I carry with me bits and pieces from every day I have lived on earth and every bit and every piece is making me who I am today.
Share
What are you carrying with you from your old self? Share by leaving a comment.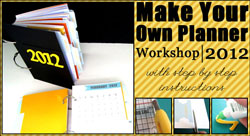 Check out Creativity Prompt's new and unique self paced workshop: "Make Your Own Planner".
This workshop will show you how to make a beautiful handmade planner for the year 2012. Not only are you going to get the entire meticulously designed planner kit for instant download, but you will also get a high resolution video tutorial as well as step-by-step instructions to guide you on each step of the way. Either treat yourself with a fresh and creative start for the coming new year, or get it to create wonderful gifts for your family and friends.
Join now
Tags: Digital Kits, Digital Scrapbooking, DT, Journaling Prompt, Karla Dudley, scrapbook layout