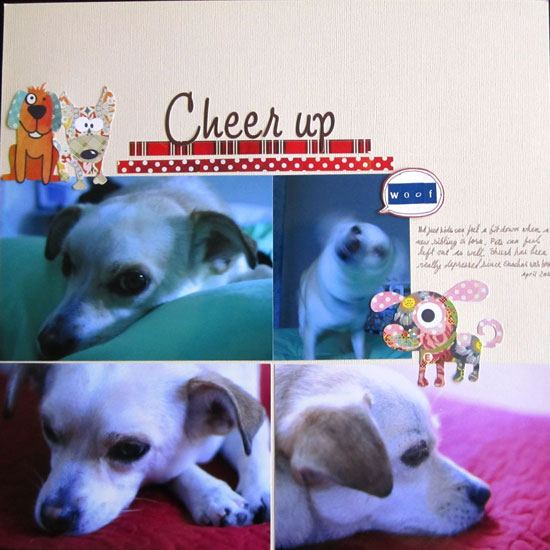 When a new child is born,
his siblings may go through a rough patch
.
However, a family's pet may also experience the same difficulties.
It too may feel a bit neglected, left out.
It too may feel frustrated that although it wants to play with the new siblings, mommy and daddy say "No!" and push it away.
Shusha, too, feels a wee bit depressed.
Just look at that sad face.
I'm sure that in no time they are going to be best friends and play together all the time.
Products Used
Patterned paper by Basic Grey from the June Bug Collection – in Aggie. [I used both the dogs, the speech bubble and strips from the polka dot backside – very versatile. The tartan pattern is also from that collection.]
Basic Grey alphabet stickers. [I used an older sheet]
My Little Shoebox cardstock mini alphabet stickers.

Check out Creativity Prompt's new and unique self paced workshop: "Welcome Little One". This workshop will provide you with everything you need, and then some, to make a fabulous handmade mini album to record the first moments of a new born baby.
Tags: creativity prompt, layout, scrapbook, scrapbook layout, scrapbooking