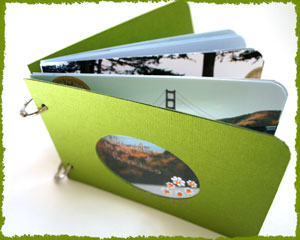 I am always trying to come up with the quickest and easiest projects for Creativity Prompt, but this time I have really outdone myself…
All you have to do is gather all your 4″ by 6″ photos together and in a matter of minutes they are all assembled in a cute mini album, with a twist.
This project is perfect as a last minute gift, or a mass production gift as well as a way to deal with a large amount of photos that convey the same story.
If you want to watch me make this mini album, than keep scrolling.
Tools & Supply
How To

[Music with permission is by Josh Woodward]
Step By Step Instructions
Cut the acetate piece to 4″ by 6″.
Cut 2 pieces of cardstock to 4″ by 6″ each.
Temporarily adhere both cardstock pieces together and cut a shaped window out of them – you may use any shape and any die-cutting system you prefer.
Adhere the cardstock pieces and the acetate in a Cardstock-Acetate-Cardstock sandwich.
Back each photo with a 4″ by 6″ piece of patterned paper.
For the back cover, cut 2 additional pieces of cardstock at 4″ by 6″ each and adhere together – back to back.
Gather all your photos and both cover pieces together and punch 2 holes w/ the Crop-a-Dile.
Fasten with the binding rings.
Tell the story.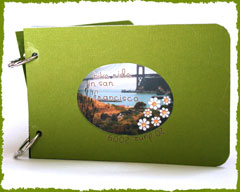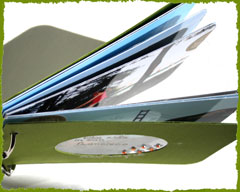 Shana Tova (Happy New Year) to all my Jewish readers!!!
Share
If you have any question, suggestion or remark – don't hesitate to contact me – either leave a comment here, use the contact form or start a new thread on the Creativity Prompt Flickr Group!!!
I would also be very happy to see your own creations, so don't be shy and share 🙂
Tags: creativity, creativity prompt, easy, mini-album, quick