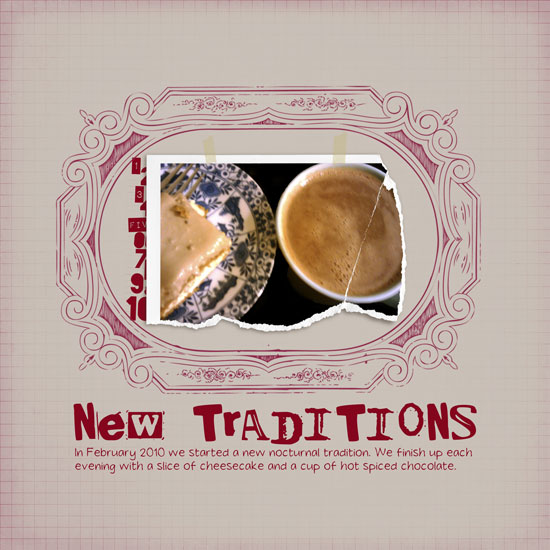 [
Fonts:
For The One Hundredth Time, Tidy Hand;
Digital Kits:
CS Torn Bits 2
by cat scraps (torn photo template), KD Digi essentials by
Karla Dudley
(masking tape),
Write It Down Ornate Frame
+
Can't Buy Me Love
+
Write It Down Top Ten
– by Shimelle Laine for Two Peas In A Bucket.]
After a loooong year, we went back home for a visit in January. We came back here on February 1st 2010 and some things have changed.
One of the changes was a blessed one – a new tradition was born.
Each evening Nadav and I have a piece of [LIGHT] cheesecake and a tall cup of spiced hot chocolate.
It helps soothing any stress accumulated through the day and sweeten our nights.
Have you got a new tradition? (or perhaps an old one…)
Take a few minutes and document it.
You'll appreciate it later.
Recipes
Spiced Hot Chocolate [for 2]
In a small sauce pan heat up 1½ cup of milk (We use Silk Light Vanilla Soy milk).
Add 1 Tsp. of ground cloves, 1 Tsp. All Spice, 1 Tsp. Mace, 1 Tsp. dry ground ginger, 1 Tbs. cinnamon. (you may change quantities to taste)
Stir in 4 Tbs. of good chocolate powder (We use Ghirardelli's Double Chocolate mix).
When it's dissolved add 2 more cups of milk and heat up until it's boiling hot. (make sure the milk don't spill over)
Pour carefully into two large cups and enjoy!
Light Cheesecake [for a lasagna pan]
Mix 1 package of instant vanilla pudding (fat free and sugar free) with 2 cups of milk (We use Silk Light Vanilla Soy milk).
Let it sit for a while and in the mean time dip Pettite Buerre biscuits in milk and arrange a layer of dipped biscuits on your pan.
Add 2 packages of low fat cream cheese into the bowl + 3 Tbs. of sugar + ¼ cup of light sour cream – stir everything until they are all combined together.
Pour ½ of the batter on the first layer of biscuits – level up.
Arrange another layer of biscuits, dipped in milk, on top.
Pour the rest of the batter (This is when you can experiment. I added 2 tbs. of cocoa powder to the second half).
Cover the pan and put in the fridge for at least 3 hours.
ENJOY!
Share
Have you got a new fun tradition? Please share by leaving a comment here.
Tags: cheesecake, food, Healthy Kitchen Prompt, hot chocolate, Journaling Prompt, recipes, tradition