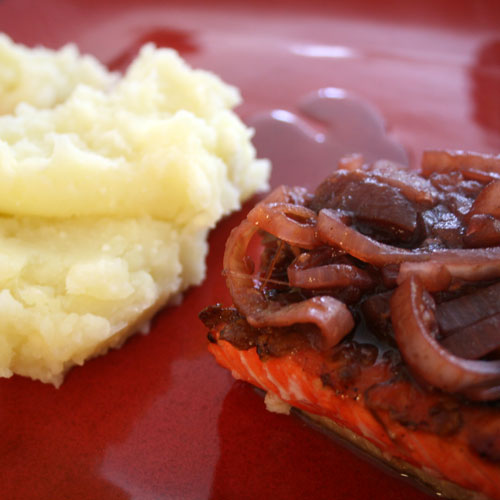 Sometimes when I fix lunch I want to reinvent the wheel.
I want to mix different ingredients and see what happens.
Sometimes I score…
I wanted to share with you the recipe for this delicious lunch combo – you can also make that for dinner, if you feel like it. You can also ignore it altogether, but you'll miss out. All the quantities are for 2 people. You'll have extra mash and extra jam, though…
Feta cheese mash
Ingredients
2 medium gold potatoes.
3 cloves of garlic.
1 Tsp. of butter.
3 heaping Tbs. of feta cheese crumbles.
How to
Peel and cube the potatoes and garlic cloves and put in a small pot. Cover in water and add a dash of salt.
Cook, with the lid on, on high heat until the potatoes are soft, about 20 minutes, depending on the size of the cubes.
When the potatoes are soft, discard the water and add the butter and feta cheese, then mash everything together, until they are totally combined.
Grilled Salmon
Ingredients
2 boneless fillets of salmon (sized to fit your appetite)
2 lemons
4 cloves of garlic
1 cup Chardonnay
1 Tbs. butter
How to
Marinate the fish for at least 20 min. in freshly squeezed lemon juice and minced garlic.
After the fish is duly marinated, heat a large pan on the stove and add the butter and Chardonnay.
Once the Chardonnay is boiling, add the fish fillets, skin side down, and keep still for 5 minutes [or less if the fillet is thinner – just check if it's about half-way cooked]
Flip the fish to the other side and pour the marinade juice on top of the fillets. Cook for 3 more minutes.
Turn off the heat and move the pan onto a cold surface [room temperature] and let it rest for about 5 minutes.
Onion and raspberry jam
Ingredients
1 large white onion.
3 Tbs. of honey.
4 Tbs. of balsamic vinegar.
1 cup of fresh raspberry.
1 Tbs. brown sugar.
1 cup Chardonnay.
Spices: clove and allspice.
How to
Peel and slice the onion into long strips, then saute these strips in a sauce pan on medium heat until they are softened and turn translucent.
Add the honey, balsamic vinegar and Chardonnay and keep on medium heat. Stir occasionally to make sure nothing burns and sticks to the bottom of the pan. Keep at it until almost all the liquids are reduced by 1/3 and almost totally absorbed into the onion or evaporated.
Add the fresh raspberries and keep on stirring, still on medium heat.
Add the sugar and keep stirring until it is fully integrated into the reduced mixture.
The jam is done when no more liquids appear at the bottom of the pan.
If you give it a try, make sure to leave a comment and tell me how was it. Thanks!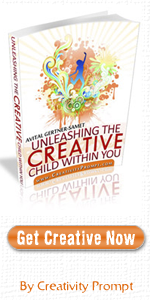 Back when we were kids creativity came naturally to us. Everything was possible and our prolific imagination was the only limit we knew.
Through the years we have grown apart from our inner creative child and along with that – have lost our pristine and utter joy of creation.
In this e-book I will pave your way back to your inner creative child, brick by brick.
"Unleashing The Creative Child Within You" will explain why you became distant from your core creativity and will reveal the secret to getting it back.
With exercises designed specifically to help you find the inner child within you, regain its confidence and unleash it – you are bound to get your mojo back faster than you think.
Your inner creative child wants to come out and play, so click here to get "Unleashing The Creative Child Within You" now.