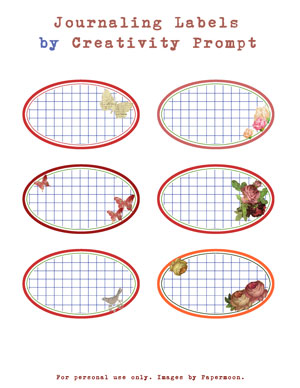 This week I have a set of FREE retro romantic journaling labels to share with you (for personal use only). I used this label set on this springy layout.
To download it simply click on the image (or the link) and if it doesn't work try to right-click on it and opt for the "save target as…" option (it may be phrased a bit differently on different operating systems).
I hope you like it and have lots and lots and lots of fun with it.
In case you love the images (like I do) but are not particularly impressed with my label design, the images by Papermoon are copyright free and are available here.
Make sure you didn't miss the rest of the free printables on Creativity Prompt.
Share
What will you use these labels for? Share by leaving a comment on this post.
Struggling to find uses for the labels, here are some suggestions on how to use the journaling labels.
I want as many people as possible to enjoy my labels (and to see them around on projects…), so please twit about this post – you may use the button above, share it on your blog, favor it on Stumble Upon, share on Facebook, share this post on your RSS reader – any way you wish.
I will also understand if you'd rather do nothing. In any case, you are VERY welcome to use them – from the bottom of my heart 🙂
In fact, I want you to tell me if there is a specific type of printables you'd like to see on Creativity Prompt in the future? If you share your wishes, they may come true.
Tags: freebie, journaling labels, journaling tags, printable