Supply
cardstock: Bazzill
Patterned paper: My Minds Eye "Home" (pale blue), Autumn Leaves (text)
Adhesive: Fabri Tac by beacon; Glue Glider Pro by Glue Arts; 2 Way Glue by EK Success.
Letter Stickers: American Crafts "Lullaby" Thickers (white), Generic from the Dollar bin at Target (turquoise), Jenni Bowlin Tiny Circle Stickers.
Tools: Punches: EK Success (scallop border punch), Martha Stewart (starburst); Stapler: Tiny Attacher by Tim Holtz.
Journaling tag: Creativity Prompt.
Ribbon: American Crafts (Dotted), Generic and o-l-d (seafoam thin satin)
Jewels: generic.
How To
Pleated Ribbon
Attach the edge of your ribbon with 2 tiny staples.
Apply a line of fabric glue. Fabri Tac is WONDERFUL. (I wish I was endorsed by Beacon. I am not)
Pleat the ribbon along the glue line irregularly to create a messy look. don't worry about the pleats opening up at this stage.
Go back and apply a bead of glue underneath each "pleat" to keep it in place.
Ribbon Flower

Also Known as – what to do if you run out of ribbon while pleating but happen to have a similarly colored ribbon at hand…
Put a drop of fabric glue where you want your flower center to be at and adhere the tip of your ribbon strip to it.
Apply some more glue around the glued edge and start turning your ribbon around it, flipping the ribbon occasionally.
Keep applying more beads of glue around and building your "flower" until you are satisfied with its size.
Cut off the excess ribbon and tuck the end underneath one of the pleats with another bead of glue.
Share
Is it spring yet? Share your thoughts by leaving a comment.
If you give the techniques a try – pweeeeeze share 🙂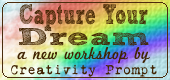 Check out Creativity Prompt's self paced workshop: "Capture Your Dream". In this workshop you will capture, follow and make your dream come true as well as document your journey in a fabulous mixed media mini album.
Tags: creativity prompt, handmade flowers, layout, scrapbook layout, scrapbooking, sprin, Tutorial