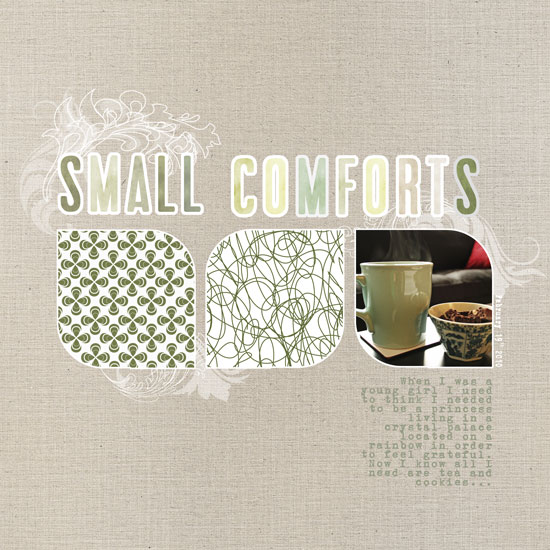 [
Karla Dudley Designs:
Capture + Record
,
Silly Lines Green
,
Rub On Essentials 1
and
Alpha Stickers 2
;
Font:
Erika Ormig
]
You have probably noticed how much I LOVE Karla Dudley's designs. I have been using her gorgeous products in my digital layouts for a long while – they are classically stylish and if a "hard copy" line had been offered, I would probably buy it too…
You can only imagine my delightful surprise when she said she was looking for designers for her CT. I just couldn't believe my own eyes.
I am beyond happy for making it to the talented CT of the uber talented Karla.
Journaling Prompt
This layout is all about small comforts.
In my journaling I wrote:
When I was a young girl I used to think I needed to be a princess living in a crystal palace located on a rainbow in order to feel grateful. Now I know all I need are tea and cookies.
Like their name suggests small comforts are the little things that make us go "ahhhh…".
The small things that make us feel serene and happy and thankful.
Jot down what are your small comforts. I assure you that acknowledging them alone would already make you feel this much better.
[Go here for the digital tip on how to create an outline image of your brush or png. image]
Share
What are your small comforts? Leave a comment and share your delights with me. Please… 🙂
I love hearing from you guys.
Stay tuned for some more free journaling labels.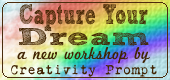 Check out Creativity Prompt's self paced workshop: "Capture Your Dream". In this workshop you will capture, follow and make your dream come true as well as document your journey in a mixed media mini album.
Tags: Comfort, Digital Kits, Digital Scrapbooking, DT, Journaling Prompt, Karla Dudley