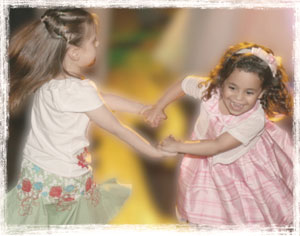 Many times life happens so quickly that we feel like we just passively watch life goes by. We feel out of control and overwhelmed. We feel any action we may take will be a drop in the ocean, completely useless. We resign.
But that isn't true my friends.
Taking control over life or letting life take control over us is a decision we make and not a state we get into.
We have full control. All we need is to empower ourselves to take control.
If we think we can do it than we will do it. If we think we are too weak, too small, too _____ [fill in the blank with a diminishing adjective] then we will keep on watching life goes by and remain unsatisfied and constantly disappointed.
Take a look at my niece (in the pink dress) taking control and ruling the dance floor. She doesn't wait for permission. She doesn't need dancing lessons. She does not need a title nor a degree. If she feels like dancing with complete and utter joy – she dances and sweeps everyone with her in a swirl of happiness.
We were all once like that. We were all once kids.
We were happy. We did not think about faith, destiny or 'the rules'. We were not bothered by how things are supposed to be. We took control and lived actively and powerfully.
I have noticed even people who claim everything is predestined, and that we can do nothing to change it, look before they cross the road.

Stephen William Hawking
Just like looking before crossing the road, we can control any other step we take in life. The secret is to take one step at the time and take over the dance floor.
Share
Do you feel like life goes by or do you take control and live actively? Share and leave a comment on this post.
Tags: Inspiration, Inspiration prompt, life, quote, quotes