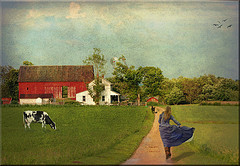 [Photo by:
Jody McNary
]
I have recently stumbled upon a fascinating quote by Richard Bach:
"The simplest questions are the most profound.

Where were you born?
Where is your home?
Where are you going?
What are you doing?

Think about these once in a while and watch your answers change."
This quote appeals to me for two reasons:
Its attribution to the most important things in life: your origin (roots), your plan and your actions towards it.
Its attribution to the changes that appear as time goes by. Even the most profound aspects of life are affected by the passage of time.
Make use of Richard Bach's brilliant observation and answer these questions in your journaling. Don't forget to put a date on your journaling.
After a while go back to your answers and see if there's any change. Record the change. Has anything remained the same?
Share
What is your answer to these questions right now? Share your thoughts by leaving a comment on this post.
What other important aspects of life do you cherish? Do they change over time as well?
Can questions referring to the past, such as "where were you born", really change over time? I'd love to hear your thoughts about it!
Tags: journaling, Journaling Prompt, life, quote, quotes, time, yourself