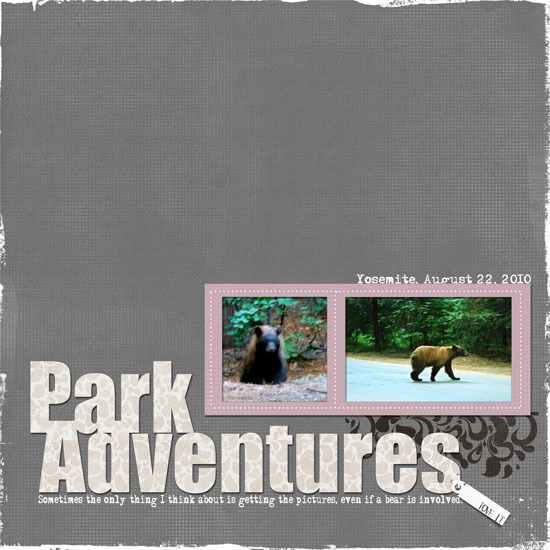 [Fonts: Impact and Adler; Digital Kit: KD Crush by Karla Dudley.]
As a scrapbooker, or a memory archiver, I find myself doing things I would never imagine doing, just for the sake of collecting visual memories.
This layout is a wonderful example of such irrational behavior.
The pictures in the layout were taken with a regular 55mm lens – no tele lens, no zoom – I was standing right in front of the huge bear.
Gladly, I caught Mr. bear on a good day…
(I hope he isn't traumatized by the insane human who ran after him with a camera)
How To Create Digital Letter Die Cuts
In this layout I used Karla Dudley's newest digital kit, "KD Crush", which will be available tomorrow at the Digichic online store. The kit is based on a natural color palette, just in time for fall and includes beautiful papers, brushes and elements (including an alpha set).
However, I used it a bit differently by masking the patterned paper to a regular true type font.
Here is how I made the title for my layout above:
Choose any font, preferably a dominant one, such as "Impact" to give room for the digital patterned paper.
Type down your title, each word separately to allow maximum control over its position.
Decide what is the FINAL position and size of each letter in the title.
Simplify all the title layers (by right clicking on each layer and selecting "simplify").
Merge the layers together (just select all the relevant layer and then right click on your selection and opt for "merge layers". To select a couple layers together press the CTR or CMD key while clicking on the layers).
Insert any patterned paper and make sure its layer is directly above the title layer.
Mask the two layers together by pressing "CTR+G" or "CMD+G".
You may now merge the 2 layers together to add a drop shadow or leave it as is.
Share
Have you ever acted out of character just to take a picture or preserve a memory? Please share your story by leaving a comment here.

Check out Creativity Prompt's new and unique self paced workshop: "Welcome Little One". This workshop will provide you with everything you need, and then some, to make a fabulous handmade mini album to record the first moments of a new born baby.
Tags: Digital Scrapbooking, DT, Karla Dudley, photoshop, Tutorial