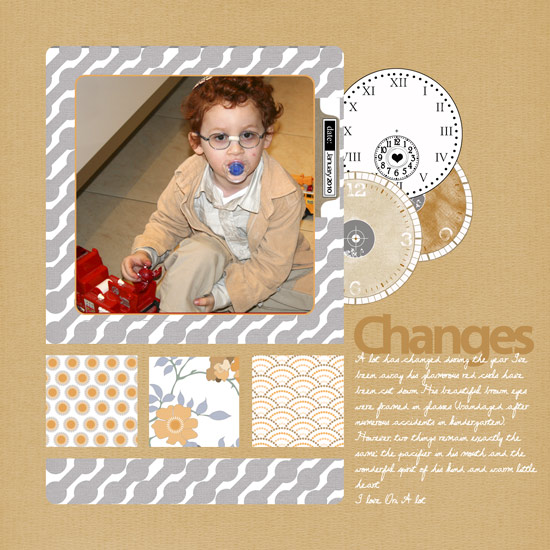 [
Fonts:
Vegur, Popsies;
Digital Kits:
Blakely
,
Digi Essentials #2
,
Digi Essentials #3
– all by Karla Dudley]
Journaling Prompt
I have recently come back from a visit back home. This time it's been over a year since my last visit and a lot have changed. I was astonished by all the changes.
Some changes are subtle and creep up on you very slowly.
Such is a crack in the cement and a peeling of the wall and stains that keep on expanding until you climb up the staircase you used to climb on throughout your childhood and you cannot recognize it anymore. It looks old and disengaged. It became alien.
Such are wrinkles that add up one by one, until the wrath or love of time is boldly noted.
Having said that, some changes are rapid. They usually occur in children. A baby becomes a child.
In this layout I documented the changes in my youngest nephew: Ori (Who will be celebrating his 4th birthday this week). Ori is Asaf's brother. This is what the journaling reads:
A lot have changed during the year I've been away. His glamorous red curls have been cut down. His beautiful brown eyes were framed in glasses (bandaged after numerous accidents in kindergarten). However, two things remain exactly the same: the pacifier in his mouth and the wonderful spirit in his kind and warm little heart. I love Ori. A lot.
Document the changes you note in something or in someone after a long period of time you haven't seen it or him.
Sometimes a day can be a long period of time and sometimes only after a decade changes start to become apparent.
Share
Have you been startled by a change lately? share your thoughts by leaving a comment. I really want to hear so please share.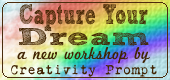 "Capture Your Dream" workshop is a self-paced workshop. Do you to capture your dream and make it happen?