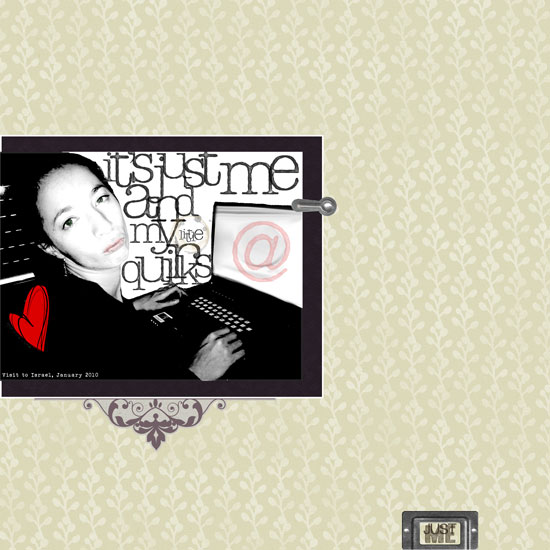 [
Fonts:
Urania_Czech;
Digital Kits:
KD Digi Essentials 5 (alpha brushes and coffee stains), KD Jillian (patterned papers) – all by
Karla Dudley
.]
In telling your story, the first thing you need to tackle is embracing imperfection.
Our true story, life story, isn't about all the moments we were meticulously dressed, our make up perfectly applied and our hair glamorously done.
Our true story is about real – day to day – life.
It is the way we are when we wake up in the morning after a sleepless night.
It is the funny faces we allow ourselves to make only when we are surrounded with loved ones.
It is the way we deal with hardships.
It is the things we struggle with and eventually achieve.
It is the glow we have after completing a workout in the early hours of the day.
It is the laughter in our eyes when we make it to the top of the hill or when we meet a long lost friend.
It is about looking in the mirror and smiling because we accept ourselves the way we are.
This is who we truly are!
This picture was taken with Nadav's cell phone camera.
I was jet lagged after a looooong flight and setting up my laptop at his parents' guest room.
I was tired, cold, a bit dehydrated and making a goofy face (on purpose).
The picture is far from being perfect but it represents me. It portrays a side of me I want my future kids to see.
So I made a layout out of it.
Go ahead and embrace your imperfect pictures. Let them tell a true story.
Design Drill Down
As both me and the photo's quality were sub par (hello understatement of the year…) I worked around it, making the photo look more "artistic" and "organic".
I turned it to black and white, cranked up the levels settings, used funky alpha brushes instead of just a font and blurred and manipulated the background plus i added a touch of color to highlight my "true colors"…
The heart, lips and e-mail symbol make a visual triangle of red and the purple mat against the yellow background helps the photo pop up – as it is the main element.
The embellishment under the photo mat softens the quirky look and the bookplate "grounds" the page and also conveys the theme… Its small size is also purposeful story-wise.
There is also contrast between the soft and traditional look of the background pattern and the embellishment and the modern, funky look of the photo, myself and alphas.
Share
Have you scrapped an imperfect picture that tells a true story lately? share your thoughts with me and leave a comment.