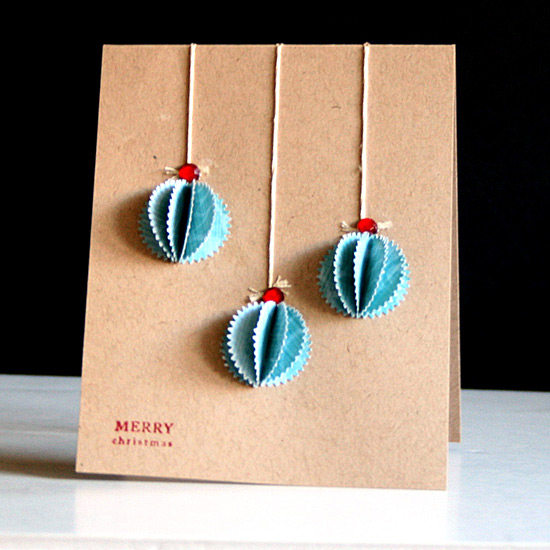 I wanted to share with you a quick and simple card I made. You can also use the same technique to create ornaments for your tree. You may use any symmetrical shape to make it.
Supply
Patterned paper [I used specialty paper by Cloud 9 Design]
Glue pen [you can also use a glue stick]
Greeting stamp and ink [I used Mixed Messages and Pure Poppy inkpad by Papertrey Ink]
How To

[Go here to watch on YouTube and while there, please rate, comment and subscribe.]
Step by Step Instructions
Cut you cardstock at 4¼" lengthwise and fold in half to create your card base.
For each ornament, punch 5 punched pieces of patterned paper and fold each one in half.
Adhere only one half of the punched piece to the second one, making sure the edges are aligned and repeat on all five punched pieces.
Repeat for all the ornaments you want to add to your card.
Decide how you want to lay your ornaments on your card and pierce a hole on top of each ornament and another hole on the fold of the card in a straight line above each ornament.
Thread your embroidery floss through both pierced holes and tie at the bottom, close to the top of each ornament.
To secure the knot, apply a glob of a strong liquid glue on each knot and attach a gem to it, to conceal the glue.
Adhere the ornaments below each knot.
Stamp your greeting.
Share
What holidays are you celebrating in the next couple months? I am really excited about Hanukkah, the Festival of Lights. Share yours by leaving a comment below.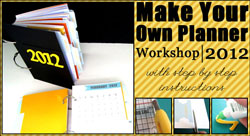 Check out Creativity Prompt's new and unique self paced workshop: "Make Your Own Planner".
This workshop will show you how to make a beautiful handmade planner for the year 2012. Not only are you going to get the entire meticulously designed planner kit for instant download, but you will also get a high resolution video tutorial as well as step-by-step instructions to guide you on each step of the way. Either treat yourself with a fresh and creative start for the coming new year, or get it to create wonderful gifts for your family and friends.
Join now
Tags: cards, Christmas, creativity prompt, holiday cards, holidays, Video Tutorial