[Font: VT Portable Remington; Digital Kits: KD Sun Kissed (background paper + frame), KD Handwritten Summer (accent brush), KD Stamp Alpha (title), KD Digi Essentials (stitches) – all by Karla Dudley.]
As far as journaling is concerned stop being so serious about it. Not every story has to be a masterpiece worthy of a Pulitzer prize.
Your sense of humor is also a part you would probably like to preserve for posterity.
Humor is especially called for in layouts featuring photos you took to capture a moment in life, rather than an actual story, a piece rather than the whole. When you look at your layouts you can remind yourself of that humorous moment or silly piece of life and read your journaling and have a good laugh.
After all, what more can you ask from a layout than making you feel better at time of distress?
My journaling reads:
The first step to a successful recovery is admitting you have a problem. I admit no such thing! I have absolutely no problem. It is completely reasonable to have a shoe to match every piece of clothing you own. It is totally natural to covet each shoe you see and do not already possess. It is purely logical to assume that painting your toe nails and wearing high heal studded shoes is enough to be considered fully clothed. It is customary to wear red open toe 5 inch heal and a patent leather flower to go grocery shopping, oh and it is totally acceptable to wear flip flops to negotiation meetings. All shoes are created equal. Yes. I do not have any problem!
April 2010
Digi Tip
To create the "stitched" strike-through line over the word 'addiction' in my title I used various pieces of the stitches image. All I did was to select a piece of the image with the rectangular selection tool and than with the move tool, to pick up the selected piece and lay it down on the title, next to the original image, slightly down. Than I used the move tool to nudge it sideways and repeated the process with another piece of the image. That gives the illusion of the sewing machine running back and forth. Sort of…
Share
Do you use humor or sarcasm in your layouts? How? Please share with me and leave a comment.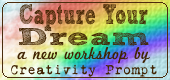 Check out Creativity Prompt's self paced workshop: "Capture Your Dream". In this workshop you will capture, follow and make your dream come true as well as document your journey in a fabulous mixed media mini album.
Tags: Digital Brushes, Digital Kits, Digital Scrapbooking, DT, humor, Journaling Prompt, Karla Dudley, scrapbook layout