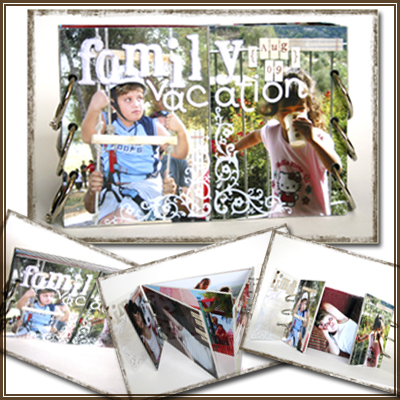 How would you like to put together a beautiful mini album – from start to finish – in about an hour?
Sounds good, doesn't it?
You know what, let me throw in a special feature that will turn your mini album from a beautiful albeit simple board-book into an intricate gate-album that is guaranteed to extract some "oohs and ahs" [I am pretty sure it's a technical term. Please correct me if I'm wrong].
Are you interested? Yes? Then keep reading.
Oh, wait. Have I mentioned there's a video tutorial included in the package?
Tools and Supply
2 Heavy-weight acetate or acrylic sheets – 4″ by 6″ each.
5 pieces of heavy-weight chipboard (about an 1/8″ thick) – 4″ by 6″ each
Embellishments: [Needless to say, these are the ones I used. The sky is the limit for you]

How To

[Music with permission is by Josh Woodward from his album "Here Today"]
Step By Step Instructions
Cut all your acetate and chipboard pieces to size and arrange them according to the following chart:


The top and bottom acetate (or acrylic) pieces protect your photos. You may leave those pieces out if you wish.

Mark a 1/4″ line – lengthwise – on the respective edges and mark 3 dots on that line – 1 dot in the center and 2 other dots 1″ above and below the center one. Punch these marks with a Crop-A-Dile.

After you have punched 3 holes on each side on one piece, you may use it to mark the holes on the other pieces and punch them accordingly.

Adhere each photo to the chipboard with a generous application of glue stick. Start with one side, use a brayer to insure strong adhesion, and re-punch the holes before moving on to adhering the photo to the backside.

You may replace each photo with a 4″ by 6″ sheet of patterned paper or cardstock – whatever works best for your needs.

If the photo is bigger than the chipboard piece, trim the excess with a sharp craft knife.

Double check the orientation of each photo, before you adhere it.

Assemble all your layers, following the chart above, and attach together with binding rings.
Embellish!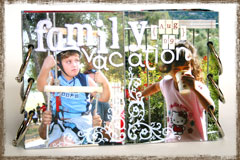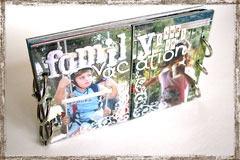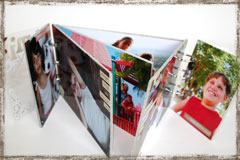 Share
If you have any question, suggestion or remark – don't hesitate to contact me – either leave a comment here, use the contact form or start a new thread on the Creativity Prompt Flickr Group!!!
I would also be very happy to see your own creations, so don't be shy and share 🙂
Tags: Board Book, chipboard, creativity prompt, Gate Album, mini-album, Tutorial, Video Tutorial