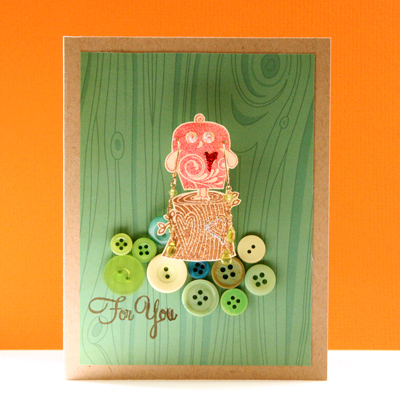 The Hero Arts blog has sparked this idea in my head when they came up with a gift card challenge. I'm always up for a challenge and instead of thinking about a fun way to incorporate money or a store gift card in the card, I thought why not incorporating the gift itself and the idea for this card emerged.
Another fun idea is to stamp and cut a tree image and to wrap a necklace around it, like a twinkling ornament chain.
Tools & Supply
How To

[Watch on You Tube – while there, please rate, comment & subscribe]
Step-by-Step Instructions
Stamp the images over a smooth light cardstock.
Cut around the images with precision scissors, while rotating the cardstock and leaving the scissors at the same position.
Adhere the background piece of the patterned paper centered on the card base with permanent tape adhesive.
Temporarily lay the tree image on the background paper and arrange green buttons around it to simulate a grassy hill. When you are pleased with the buttons' arrangement – adhere them with glue dots.
Adhere the tree image in its place on top of the buttons with a thick foam adhesive. Either use a ½" thick piece of foam adhesive or layer a few thinner foam adhesive pieces together.
Pierce holes in the owl "ears" and put on the earing. Then adhere the owl on top of the tree with another piece of thick foam adhesive. The thickness of the foam gives room to the earing's stubs.
Add some more interest and texture with a few touches of glitter glue here and there.
Stamp your greeting with brown ink. Attach the stamp to the left side of the acrylic block, so the buttons won't stand in your way.
Give the gift card to someone you love and get a smile in return.
Share
If you have any question, suggestion or remark – don't hesitate to contact me – either leave a comment here, use the contact form or start a new thread on the Creativity Prompt Flickr Group!!!
I would also be very happy to see your own creations, so don't be shy and share 🙂
Jump start your creativity for 2010 and Make Your Own Planner with an affordable workshop that keeps on giving with an unlimited personal use license…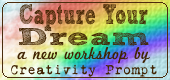 "Capture Your Dream" workshop is relaunching as a self-paced workshop. Isn't this the perfect time for you to capture your dream and make it happen?
Tags: card, creativity prompt, gift, handmade, Hero Arts, stamping