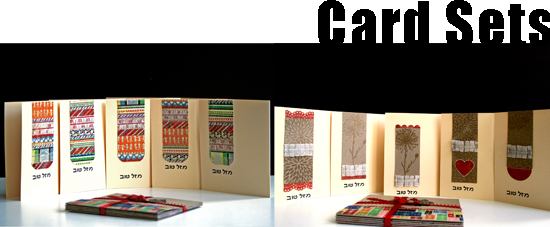 We are about to visit home soon, after more than a year away. In the midst of making all the "gift arrangements" I found out that what my sister remembers the most and uses the most is the bonus set of handmade cards I gave her last year. Not the fancy schmancy make up or the cool toys for the kids. Just a batch of cards that I made myself. What a revelation.
We are still up to our ears with boxes containing gifts and specialties, but I decided to add a bonus handmade card sets to each of my peeps back home.
As my family lives in Israel and greets its acquaintances in Habrew, I decided to create the greeting digitally and print the cards' frame and build on it.
As for the design I wanted to make each set cohesive with a repetitive design element, in both layout and materials.
The best way for me to go about it was to choose one collection paper pad, one (or two similar) stamp and one additional embellishment.
I love the results.
To finish it off as a gift, I wrapped each bundle with a cute ribbon and infused it with love dust.
The "ingredients" are from my recent humongous purchase from Scrapbook.com after 6 months of scrap supply dryness…
Here is what my shopping cart included:

What do you think? Will all these goodies finally get me going?
Share
Did you buy anything you are really excited about lately?
Update
At the advice and sweet encouragement of wonderful Virginia I decided to add these card set to the Moxie Fab World's challenge. Wish me luck 🙂

Check out Creativity Prompt's new and unique self paced workshop: "Welcome Little One". This workshop will provide you with everything you need, and then some, to make a fabulous handmade mini album to record the first moments of a new born baby.