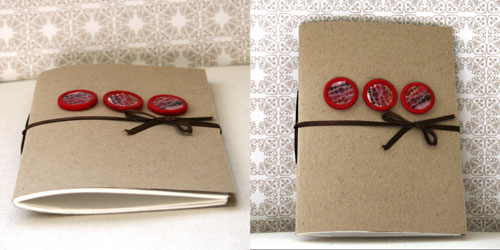 This project is also an easy one you can whip up in under 10 minutes. I love those type of projects and I can never have enough notebooks to sketch, doodle and write in. Can you?
I used the ribbon for the binding, as an alternative to the linen thread or embroidery floss I normally use for binding and as an added bonus, the ends of the ribbon also provide a nifty closure for the notebook.
If you are interested in making this sweet and simple notebook, then keep on reading for the supply, video how to and step-by-step instructions. Enjoy!
Tools & Supply
How To
[Watch on YouTube. While you're there, please comment, rate & subscribe]
Step-by-Step Instructions
Cut your papers 8″ wide and 5½" tall. Fold in half to 5½" by 4″.
Straighten the edges of the paper stack with a grid ruler, aligned with the edge of the paper and a craft knife.
Cut your cardstock 8½" wide and 5½" tall and wrap around the paper stack to adjust the spine.
Lay the paper stack over the cardstock cover and mark the piercing holes: one at the center and one to each side – 1″ apart.
Pierce the papers and cardstock following the marks you created before.
Thread the ribbon through the needle so both ends would meet and start the binding stitching from the inside out, through one of the outer holes.
Then go in through the opposite hole.
Tie the ends together in a double knot and thread the needle out through the center hole and in again through the same hole.
Thread the needle through the loop the tied ends create and then underneath the first stitch.
Thread the needle out through the center hole again.
Cut the ribbon off the needle and use the ends to close the notebook.
To embellish the notebook I adhered 3 buttons with a dab of Diamond Glaze to the center of the notebook's cover and adhered three punched out circles of patterned paper to the button. I then secured the patterned paper with another layer of Diamond Glaze.
Share
If you have any question, suggestion or remark – don't hesitate to contact me – either leave a comment here, use the contact form or start a new thread on the Creativity Prompt Flickr Group!!!
I would also be very happy to see your own creations, so don't be shy and share 🙂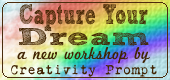 "Capture Your Dream" workshop is relaunching as a self-paced workshop. Isn't this the perfect time for you to capture your dream and make it happen?
Tags: binding, creativity prompt, journal, notebook, stitched notebook, Tutorial, Video