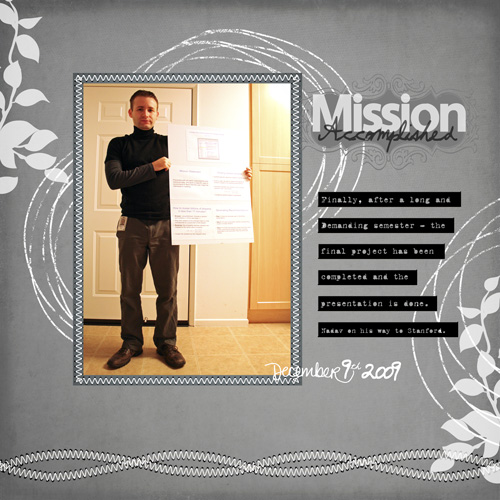 [
Fonts:
Vegur, Popsies, VTPortableRemington
Digital Kits:
Shimelle Laine's Write It Down Pretty Labels, Can't Buy Me Love & Penned Words: Dates => all available at
Two Peas In A Bucket.com
; Karla Dudley's Digi Essentials and Blakey, both available at the
Digi Chick Shop
.]
We often take extra responsibilities and engagements upon ourselves and the extra burden is noticeable. We "sacrifice" all our free time and we feel stressed and overstretched.
However, these experiences enrich our life and provide the sweetest taste we can ever taste in our lifetime – the taste of accomplishment. The taste of finally being done with our "extracurricular activity" and marking the big fat 'v' on our to-do list.
Take heed of these accomplishments. Whether they're big or small – every accomplishment is worth documenting and the real value of some of these accomplishments can only be revealed over time – so notice and document them.
In this layout I documented the end of a course my husband took at Stanford University. The course was intensive with a ton of assignments and responsibilities – while working full time for Google – and the sweet taste of getting through it (with an 'A') has been just as intense…
Share
Have you had a sweet accomplishment lately? Do you usually journal or mark your accomplishments in any way? Share by leaving a comment on this post.
Check out "Make Your Own Planner" workshop for an affordable monthly and weekly planner in a workshop that keeps on giving…