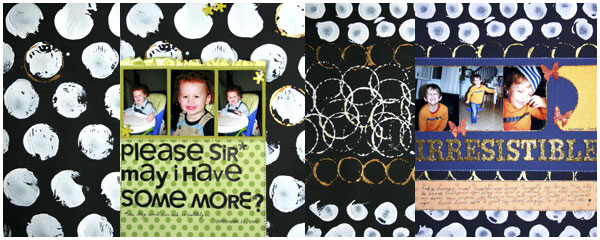 Every time I manage to find a new use to something that would otherwise find itself in the recycling bin, I am happy, even skittish… (I will deny if you tell).
In this week's creativity prompt I am reusing bottle lids to create artistic patterned papers.
The polka-dot-circular-spotty look is extremely popular right now and almost ALL the patterned paper manufacturers have a few in their latest collections. Before you reach your hand to the wallet and buy some new papers why not stopping at the recycling bin and make your own ones?
If you are interested in some ideas, then keep on reading.
Tools & Supply
How To
Watch on You Tube.
[I have had lots of comments requesting me to speak on my videos. I hate talking because my funny accent shines through. This time I took a deep breath and created a voice over – with my voice (I have to write it to believe it). Tell me the truth, don't you want the fabulous music back?]
Step By Step Instructions
Dip the lid in a pool of acrylic paint and stamp over the cardstock. To get a good impression of the lid make sure its entire surface is covered with paint. You may also use a brush to apply the paint more evenly to the lid. Apply some pressure on the lid, but beware of the paint's slipperiness. I was going for the artistic look so I didn't mind the imperfect stamping.
You may use the opposite side of the lid to create a circular outline. Use it as a frame, or as an outline to the solid circle you stamped with the other side of the lid.
Experiment –


Create different patterns.
Use different sizes of lids.
Use other mediums (instead of acrylic paint):


Ink pads.
Embossing ink + embossing powder.
Glue + glitter/ flock/ foil.

Use different objects to stamp with:


Toilette paper rolls.
Paper swirls.
Cardstock/ corrugated cardstock.
Old credit or gift cards.
Vegetables (if they went bad…)
Share
If you have any question, suggestion or remark – don't hesitate to contact me – either leave a comment here, use the contact form or start a new thread on the Creativity Prompt Flickr Group!!!
I would also be very happy to see your own creations, so don't be shy and share 🙂
Check out the new "Make Your Own Planner" workshop and you may solve this year's holiday gift shopping problem. An affordable workshop that keeps on giving…
Tags: acrylic paint, bottle lids, creativity, creativity prompt, patterned papers, recycling