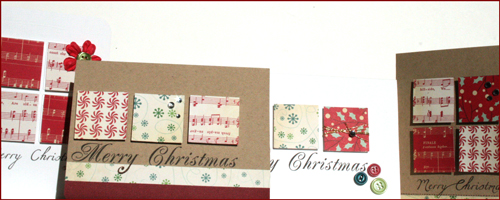 Sending handmade cards is a wonderful and well appreciated gesture, but with a recipients list as long as eternity, who has the time to make them?
What if most of the work was already done? The basic design has been laid down. The greeting has been "stamped" and all you had to do is cut, score, punch and paste? That would really give the push you need to accomplish your goal of sending handmade cards to all your acquaintances.
Search no more. I have sorted out your Christmas cards dilemma for this year.
Below you can find a printable template (PDF file format) that does most of the work for you. If you are interested, keep on reading.
Tools & Supply
How To
Step-By-Step Instructions
Print the template on a cardstock of your choice (8½" by 11″). Make sure your printer's setting is on "No scaling".
Cut your cardstock at 5½" and score each half at 4¼".
Cut 1¼" by 1¼" squares from the patterned paper of your choice. Use a punch to make this step super quick.
Adhere your patterned paper squares to the squares on the template, using dimensional foam adhesive.
Either stop here, right a personal greeting inside and send the card OR embellish some more.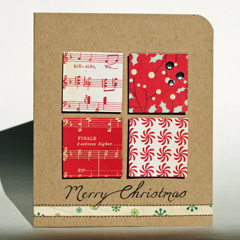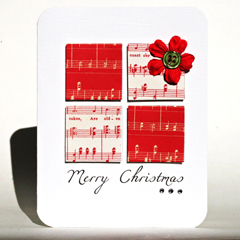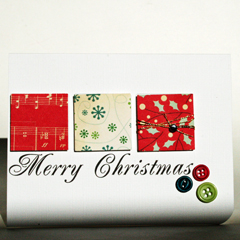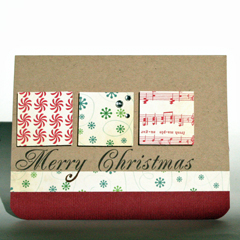 Share
If you have any question, suggestion or remark – don't hesitate to contact me – either leave a comment here, use the contact form or start a new thread on the Creativity Prompt Flickr Group!!!
I would also be very happy to see your own creations, so don't be shy and share 🙂
Check out the new "Make Your Own Planner" workshop and you may solve this year's holiday gift shopping problem. An affordable workshop that keeps on giving…
Tags: cards, creativity prompt, freebie, holiday cards, holidays, printable, template, Tutorial, Video, Video Tutorial