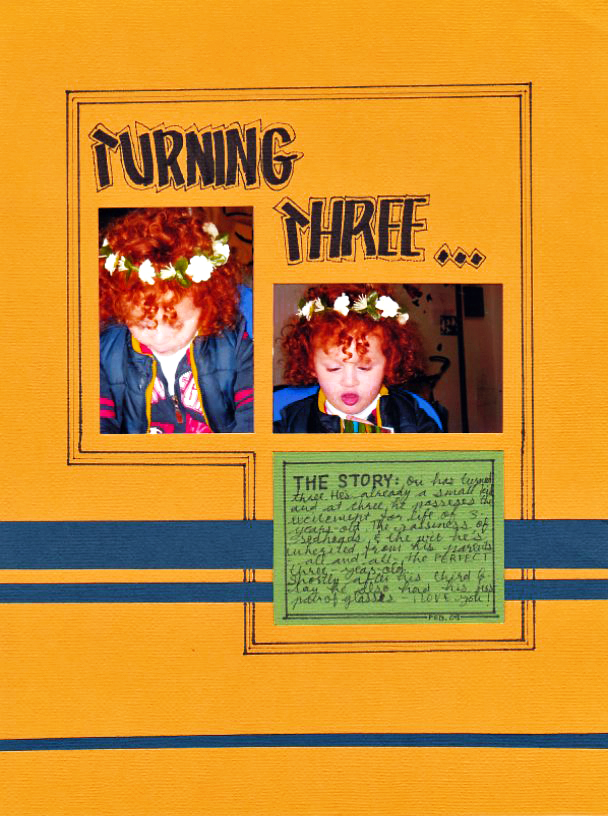 Every once in a while when I feel the muse is playing hide-and-seek I like to take a step backward, get rid of all the fluff and go back to the basics. The same applies to scrapbooking.
The industry is flooded with beautiful products and tools. Wonderful papers, inks, stamps, embellishments, die-cuts and so on and so forth. Design team members are making layouts that can be presented in art galleries. Little by little, the wonderful hobby of putting together a scrapbook to tell our stories is becoming a tedious chore with a lot of pressure involved.
I am sorry to say that I have heard many creative people deciding to give up scrapbooking altogether. Some did it knowingly and some just don't get to it anymore because of all the work and pressure involved… Isn't it a shame?
Pressure and high expectations are known foes of our inner creative child. They practically eliminate our creativity and drive our muse away.
Therefore for this week's creativity prompt, I prod you to go back to scrapbooking basics. Make a layout with only your photos and cardstock and nothing else. Preferably without using any fancy tools as well.
This is how I did it –
Tools & Supply
Tips
Use the grid on your cutting mat and ruler to align and cut elements to size without measuring. Just align the edge with the marks on the grid for a fool-proof straight-cutting and even positioning.
You can also use the grid ruler to draw perfect frames around any element. Align the edge of your element with the grid and trace with a marker.
Emboss your journaling surface (either a tag or the background cardstock itself) to create subtle journaling guidelines.
Vary the tip size of the markers you use to add instant graphic interest to your journaling design.
DON'T FORGET THE STORY.
Most importantly – don't fiddle with your layout. Know when to call it done and move forward to the next story. HINT – Perfection is NOT the criteria…
Share
How are you going back to scrapbooking basics? When was the last time you only pulled out your photos and cardstock?
Leave a comment on this post and share!