In light of the coming new year, I backtracked a little bit and gathered the most popular posts on creativity Prompt in 2009.
Without further ado, here are the posts which attracted most of your attention and sparked a wonderful conversation – either on the blog or privately, via e-mails.
&
Another favorite compilation post was the holiday handmade gift guide: 10 Handmade Gifts Under 10 Minutes.
Share
What Creativity Prompt did you like the best? What types of projects are pulling you to create?
What project have you tried yourself? Share a link!
Happy New Year!!!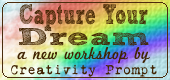 This year you can really make your dream come true!

"Capture Your Dream" workshop is a self-paced, six weeks long workshop, that will walk you through a journey of capturing your biggest dream and making it come true.

In the process of making your dream happen – with lots of inspiration and guided self-exploration, you will also create a mixed media mini album from scratch and learn many tips and techniques – including some photography pointers that will add character to your photos and will help you take better pictures of your projects.

The workshop includes 30 printable PDF lessons with step-by-step pictures and instructions as well as several printable templates you may use in other projects too.

I am confident you will enjoy it and find it helpful so I also offer full money back guarantee while the workshop lasts.
Tags: Best Of, creativity prompt, series, Tutorial, Video Tutorial