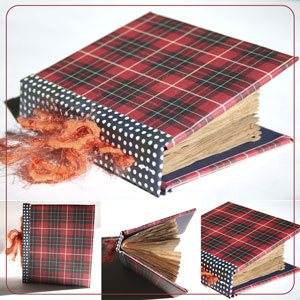 I love recycling and every time I manage to turn trash into treasure, I am happy. Maybe too happy, but that's for the professionals to judge 🙂
If you are as jubilant about recycling as I am and would like to make a fat journal out of cardboard and packaging paper used for padding – then keep on scrolling.
I've got a video tutorial just for you.
Tools & Supply
Packaging material – cardboard and padding paper (or plain copier paper)
Patterned paper – (8″ by 6″| 8″ by 6″| 5½" by 4½"| 5½" by 4½"| 5½" by 1″| 5¼" by 4¼"| 5¼" by 4¼"| 5¼" by 1″)
Pencil
How To

[Music by Josh Woodward, with permission]
Step-By-Step Instructions
Cut cardboard at: 5½" by 4½" | 5½" by 4½" | 5½" by 1″.
Cut 2 pieces of patterned paper for the cover, at: 8″ by 6″.
Adhere the cover pieces to the center of the patterned paper with glue stick.
Cut the corners of the patterned paper and leave a gap from the cardboard corners – a gap as long as the cardboard is thick (between ½" to ¼" depending on the cardboard).
Fold the remaining patterned paper flaps over and adhere to the cardboard with glue stick.
To cover the spine, cut a 6″ by 6″ piece of patterned paper diagonally. Cut it 2″-1½" away from the corner on each side.
Fold and adhere the top patterned paper flaps to the cardboard spine with glue stick.
Apply strong double sided adhesive to both edges of the patterned paper and attach the cover pieces to it. Allow an 1/8″ gap between the spine and each of the cover pieces.
For the inside cover, cut your patterned paper at: 5¼" by 4¼" | 5¼" by 4¼" | 5¼" by 1″.
Adhere the patterned paper to the inside cover with glue stick. Optional – To secure the adhesion go over the cover with a brayer a few times in different directions.
Punch 2 holes in the spine using a Crop-a-Dile.
Cut the insert pages (from the packaging paper, or any other plain paper you have) at 8″ by 5″.
Fold the insert pages in half.
Optional – Use a T-Square ruler to straighten up the inserts (or leave them looking rustic).
Position your folded pages where they should lay inside the journal and mark the placement of the holes, then punch the inserts accordingly.
Thread your string through the inserts, from the inside – out.
Thread the ends of the string through the spine and secure in a knot or a double bow.
Write your secrets and deepest wishes in the pages of your new handmade journal.
Share
If you have any question, suggestion or remark – don't hesitate to contact me – either leave a comment here, use the contact form or start a new thread on the Creativity Prompt Flickr Group!!!
I would also be very happy to see your own creations, so don't be shy and share 🙂
Tags: creativity, creativity prompt, hardbound, journal, recycling, Tutorial, Video, Video Tutorial