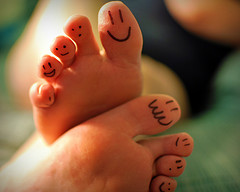 [Photo by:
Meddygarnet
]
American Thanksgiving is just around the corner. Hanukkah and Christmas are not far behind and craft stores are already stocking up Valentine's Day collections. The holidays are here.
"The holidays" is a period in which we value being charitable, helpful and loving. We put our friends in the center. These are wonderful virtues that I value as well. Sadly during this festive albeit stressful period we tend to concentrate so much on others that we completely forget ourselves.
Loving thyself is okay.
Loving yourself isn't vain nor egotistical, provided you are doing it for the right reasons and with the proper means. Loving yourself is appreciating your accomplishments. Loving yourself is keeping yourself strong and healthy – both physically and mentally – so you can be there for all the others. Loving yourself is OKAY.
I love you and I encourage you to love yourself.
To show my love and appreciation I dedicate a poem to you.
This poem is by E. E. Cummings and I absolutely love it:
i carry your heart with me (i carry it in my heart)
i am never without it (anywhere
i go you go, my dear; and whatever is done
by only me is your doing, my darling)
i fear no fate (for you are my fate, my sweet)
i want no world (for beautiful you are my world, my true)
and it's you are whatever a moon has always meant
and whatever a sun will always sing is you

here is the deepest secret nobody knows
(here is the root of the root and the bud of the bud
and the sky of the sky of a tree called life; which grows
higher than the soul can hope or mind can hide)
and this is the wonder that's keeping the stars apart

i carry your heart (i carry it in my heart)
Have you loved yourself enough today? Are you going to love yourself tomorrow? … and the day after?