Hop over to Monika's, Alexandra's and Britta's blogs for a fabulous introduction to my new stamp set: List It Yourself. You will get a huge amount of eye candy as well as 3 chances to win!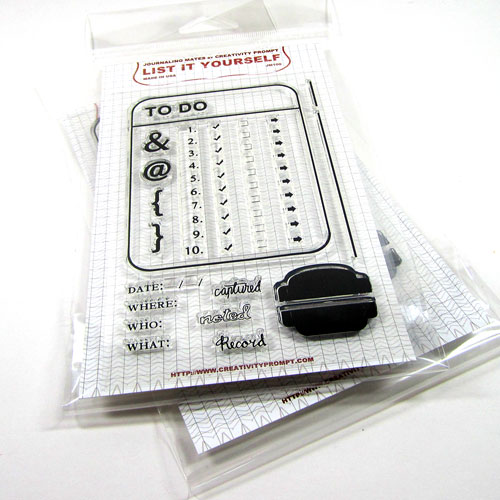 This stamp set includes 21 stamps in total, as follows: 8 memory keeping phrases stamps, 2 tab stamps, 4 element stamps, 4 list stamps, 1 journaling box frame stamp and 2 additional box frame organizers stamps.
Mix and match these stamps to create awesome, custom-made journaling spots for your memory-keeping projects as well as to get organized with your day-to-day tasks.
The frame stamp measure just under 3″ by 4″, to fit pre-made 3″ by 4″ journaling cards.
Use the list stamps to revamp your plain post-it notes and to-do lists. It is also perfect for stamping in your journals.
Made in the U.S.A.
NOTE: To fit all those great stamps (21!!!) onto one stamp set, the journaling box frame isn't fully backed. To make sure you stamp it perfectly on your project, simply toss it a few times on a scratch paper and it'll conform to its original shape. Then put your acrylic block on it and lift it. Apply ink, and stamp away. You can always test-stamp on a scratch paper, just to make sure it's perfectly straight each time.