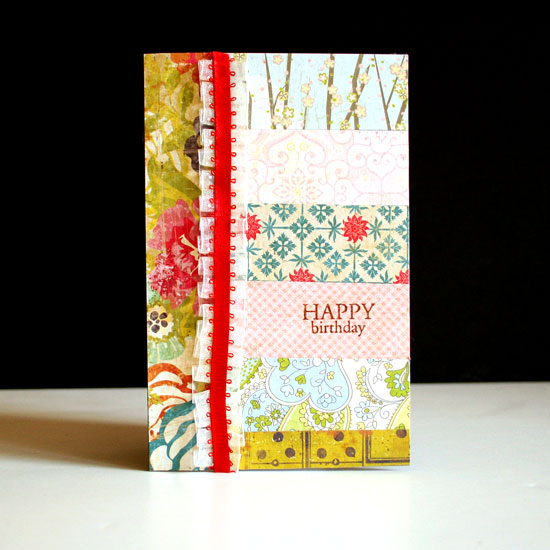 I am currently working on another video tutorial for another cool recycling project (save those boxes…). I have already finished shooting the tutorial, however the editing takes way more time then I have initially anticipated because my iMovie is a bit capricious these days. Hopefully the tutorial will be up and running very soon but in the meantime I wanted to put up a teaser.
This is a card made with the scraps of paper left after I finished my recycling project.
How To
All I did was to cover the entire card front with dry adhesive and adhere scraps of paper (VERY vintage Basic Grey and "Restoration" by Crate Paper) on it, then cut the excess. I added a couple trims for an added flair and stamped the greeting on the most subtle paper among the scraps.
Until the bigger project will be up, try to make use of your paper scraps and make a card or two… If you do, then please, please, please share it with me 🙂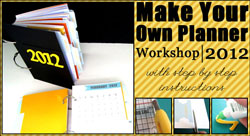 Check out Creativity Prompt's new and unique self paced workshop: "Make Your Own Planner".
This workshop will show you how to make a beautiful handmade planner for the year 2012. Not only are you going to get the entire meticulously designed planner kit for instant download, but you will also get a high resolution video tutorial as well as step-by-step instructions to guide you on each step of the way. Either treat yourself with a fresh and creative start for the coming new year, or get it to create wonderful gifts for your family and friends.
Join now