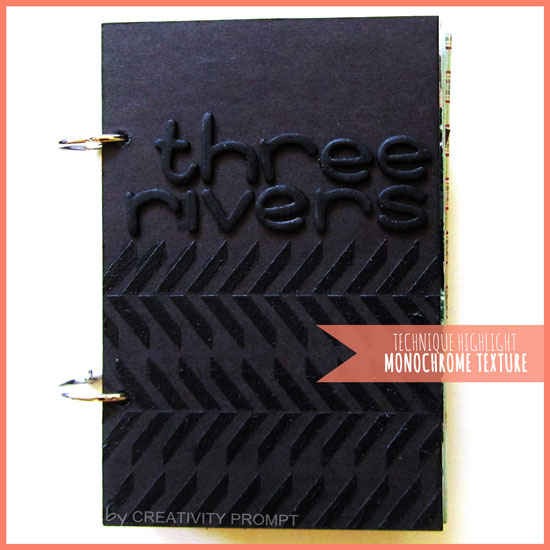 A lot of you commented and liked the monochromatic texture on the cover of my most recent travel mini album.
I am a great believer in giving credit where credit is due and in this case the credit belongs to my talented friend, Alexandra.
I was thinking about using a modeling paste with my stencils for a while but didn't do anything about it UNTIL I saw this AMAZING page and technique highlight by Alexandra on creating your own background with masks. In this tutorial Alexandra created a gorgeous white on white texture using a modeling paste and one of Studio Calico's masks.
After seeing how striking the result is I had to give it a go too.
Here is how I did it:
Supply
[Click on the image to find the product at Simon Says Stamp]






How-To
Title
Paint raw chipboard letters the same color of your background. Use a few thin layers of paint and let dry completely between layers, rather than slather on a thick layer of paint. Make sure to paint the sides of the letters as well to avoid the raw chipboard's color peeking through.
Let dry completely. Thin layers get completely dry very quickly.
Adhere to your cover with a strong liquid adhesive that dries clear. Again, use minimal amount of glue. Just dot it a few times rather than applying thick lines of glue to avoid spilling.
Textured Pattern
Affix the template to your background with a repositionable tape, such as painter's tape or a washi tape.
Mix the modeling paste with acrylic paint to create the same color as your background – skip this step if your are working on a white background.
Apply a layer of the paste-paint mix with a spatula to make sure it spreads evenly on top of the template. Make sure that you apply pressure only vertically so you won't accidentally push the paint underneath the template and mess up your pattern. If you don't have a spatula you can use an old credit card or a plastic ID card. I've got a lifetime supply of fake credit cards from all the spam mail we receive in our mail box daily…
If you want to create an imperfect pattern, mask off some of the template with the same low-tac tape you used to affix the template. Skip this step if you only wish to mimmic the template, as is.
Remove the template carefully and let it dry completely.
Marvel at your beautiful textured pattern. [Oops. Obviously this step is optional]
Share
Are you going to give this technique a go? Have you ever tried it? I would love to hear about your experience and any suggestion you may have!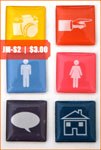 Bring life to your projects with handmade epoxy stickers.
Just $3.00 per package.
6 stickers in each package.
Each sticker measures approximately ¾â€ by ¾â€.