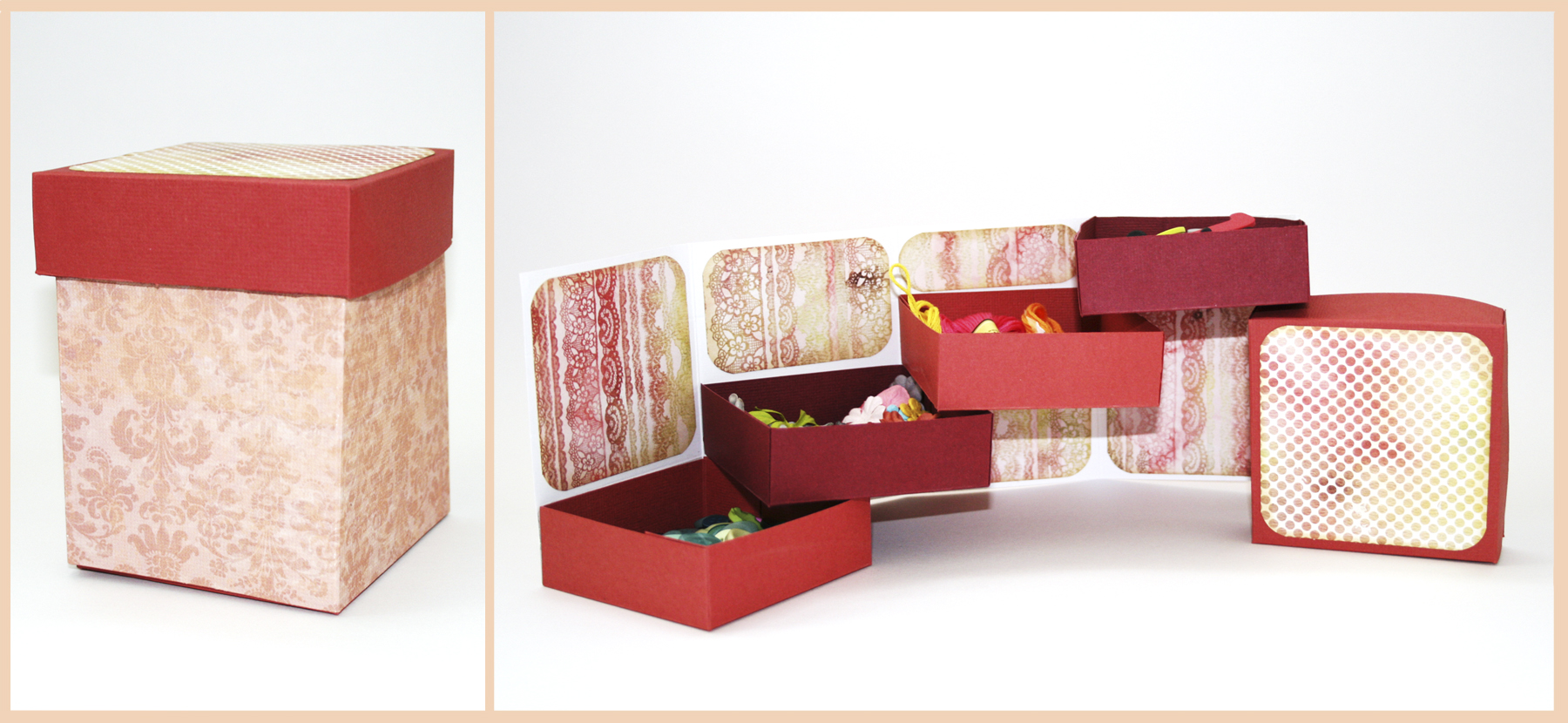 OK. I'll admit it. I am addicted. Addicted to boxes… Luckily I have been moving a lot in the past years, so I got to buy boxes and treys over and over again. I just LOVE that everything has its place. Be it the tiniest of places, but a dedicated one.
Therefore when I saw this idea of a box of drawers online (in numerous places) I immediately knew that this project is right up my alley. So I whipped up my own version of this project with a couple quick sketches and voilà , in about 20 minutes I had one more box to add to my collection.
Usage Ideas for the Box of Drawers
Sewing kit – A place for your threads, threaders and needles.
Embellishments center (as shown above) – You can put your buttons, paper flowers, die cuts, eyelets and brads all in one place.
Office supply organizer – A chic way to camouflage your paper clips and staples stash…
Family "Mail-Box" – Attach a name tag to each drawer and leave heartfelt notes to each other. (This project can accommodate any family size, just alter the height of the drawers for a smaller family, or add more drawers and alter the height of the box for a bigger family).
I'd love to hear what ideas you come up with… so please do share!
So if you feel like making your own box of drawers keep on reading:
Tools & Supply
How To

[The great music is by Josh Woodward from his album "Here Today"].
Step-by-step Instructions
Drawers –

Cut 4 pieces of 5″ by 5″ cardstock. [The following applies to each of the 4 pieces]
Score at 1″ all around. To make it easier to score, align your cardstock with the 4″ mark on your paper trimmer.
Fold all your score lines with a bone folder.
Cut one slit on each flap up to the first score line.
Apply strong adhesive to the back of each flap. Make sure the flap is covered entirely.
Adhere all the flaps together to the edges of the drawer, aligning edge to edge.

Body –

Cut your cardstock at 4″ by 12″. You can use patterned cardstock.
Score your cardstock at: 3″, 6″ & 9″ lengthwise and fold all your score lines with a bone folder.
Score LIGHTLY widthwise at each 1″ to draw some guidelines for the placement of the drawers.
Apply a strong double sided tape to each of the box's walls in increments of 1″.
To embellish the inside of the boxes cut 6 pieces of patterned paper, as follows: 2 pieces at 2¾" by 2¾", 2 pieces at 1¾" by 2¾" and 2 pieces at ¾" by 2¾" – Round their corners and ink the edges with distress ink. Then adhere to their respective place on the interior of the box.
Adhere the drawers to the box. Make sure not to place a drawer nor to apply adhesive on any of the score lines.

Lid –

Cut your cardstock at: 5¼" by 5¼".
Score at 1″ all around. [Again you can align your cardstock with the paper trimmer's 4¼" mark].
Cut a slit on each of the flaps up to the first score line.
To decorate the lid, cut a piece of 3″ by 3″ patterned paper. Round its edges and ink it up with distress ink, then adhere to the center of your cardstock.
Apply strong double-sided tape to the back of each of the flaps and adhere together, aligning edge with edge.
Share
If you have any question, suggestion or remark – don't hesitate to contact me – either leave a comment here, use the contact form or start a new thread on the Creativity Prompt Flickr Group!!!
I would also be very happy to see your own creations, so don't be shy and share 🙂