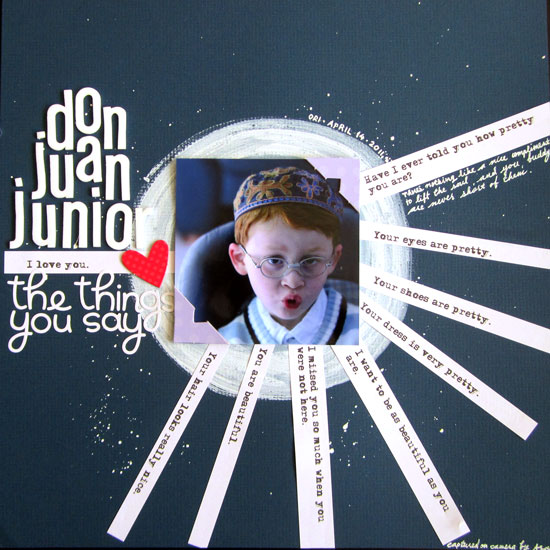 My nephew, Ori, is such an hilarious little boy.
He cannot see a girl without complimenting her.
How beautiful her eyes are.
How stunning her new haircut looks.
How pretty her dress is.
And so on and so forth.
With two quiet and shy parents, I have no idea where did he get that.
But it is SO CUTE.
[By the way, this photo was also taken by his 7-year old brother, Asaf – who is shy & quiet]
Products Used
Techniques
Acrylic Paint Accents
I made a circle mask with plain copy paper and placed it where I wanted to place my photo eventually.
I diluted a blob of acrylic paint with a couple squirts of water from a water mister and picked a very small amount of paint with a dry brush and followed the line of the mask lightly, just to get the idea of the shape and size of circle I wanted.
I put away the mask and filled up the circle with long, circular strokes of the brush. Making sure it is almost dry each time I touch the cardstock with it.
Then, when I was pleased with the circle, I diluted the remaining paint some more (but not too much), picked up color with the brush and flicked it over the cardstock to create the small paint droplets.
Starburst Journaling
I created a 4″ wide text box with Photoshop [you can use any word editing software] and wrote my journaling with spaces between each sentence my nephew says.
I printed the text on patterned paper and cut each sentence separately.
Then I lightly laid the photo in place to make sure it won't conceal any part of the journaling and adhered each strip individually with a line of liquid glue while following the curve of the circle I painted before.
To finish it off, I trimmed all the excess paper that went out of the page.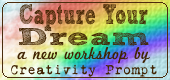 This year you can really make your dream come true!

"Capture Your Dream" workshop is a self-paced, six weeks long workshop, that will walk you through a journey of capturing your biggest dream and making it come true.

In the process of making your dream happen – with lots of inspiration and guided self-exploration, you will also create a mixed media mini album from scratch and learn many tips and techniques – including some photography pointers that will add character to your photos and will help you take better pictures of your projects.

The workshop includes 30 printable PDF lessons with step-by-step pictures and instructions as well as several printable templates you may use in other projects too.

I am confident you will enjoy it and find it helpful so I also offer full money back guarantee while the workshop lasts.