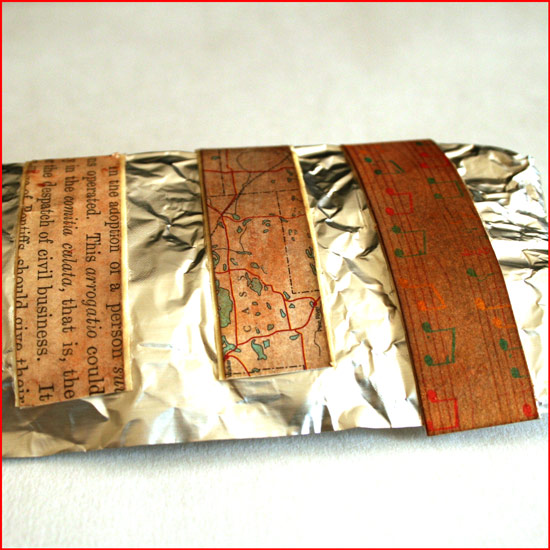 I LOVE deco tapes.
I always last after beautifully composed photos of beautiful tape.
But I don't have any of them beauties.
I guess their price doesn't translate well when I think of their utility…
Then, you can imagine my utter delight when I stumbled upon this DIY Deco Tape Tutorial by my favorite diy-er, Sara.
As my doodling skills are not as impressive as Sara's, I immediately thought of using patterned paper strips with Mod Podge. It is so easy and the result is quite pleasing.
Although it doesn't look exactly like "the real deal", it is very close to it and much more affordable, not to mention – more flexible as for what colors/patterns you'll be using.
Don't stop there, you can also ink the tape, stamp on it or just leave it as is and boost its confidence with some pep talk… (Where am I going with that?)
Supply
Plain masking tape
Patterned paper – use whatever you have at hand, even plain newspapers.
Optional – distress ink and perfect pearls.
How To

[Go here to watch on YouTube and while there, please rate, comment and subscribe.]
Step by Step Instructions
Measure the width of the tape you're using and cut paper strips, the same width as the tape.
Prepare the strips by inking them with distress ink (optional) and conditioning them with water. To do that saturate the strips with a couple spritzes of water using a mister. To add some sheen I added 2 tiny scoops of golden perfect pearl medium to the tap water, but that's optional too. Blot the excess water with paper towels.
When the strips are completely dry, temporarily adhere the masking tape, in the length of your choice, to a non-stick mat.
Apply a layer of Mod Podge to the tape – not too thin and not too thick – and adhere the paper strips to it. Apply more glue, if necessary. Eliminate all air bubbles by applying pressure with your finger on top of the paper strips. Use your finger, as if it was a brayer. Then let it dry – COMPLETELY.
Apply a second, top layer, of Mod Podge. Apply it generously – it will be used as a sealer. Let it dry COMPLETELY.
Remove the excess glue by going over it with your fingers and peel off the tape from the non stick mat. Transfer the tape to a non stick sheet you use in the kitchen. You can also roll them against a round handle (the brush's handle is perfect for that) to make your own tape-roll.
Share
Do you work with deco tape? What do you use it for? Please share by leaving a comment.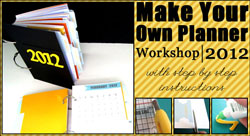 Check out Creativity Prompt's new and unique self paced workshop: "Make Your Own Planner".
This workshop will show you how to make a beautiful handmade planner for the year 2012. Not only are you going to get the entire meticulously designed planner kit for instant download, but you will also get a high resolution video tutorial as well as step-by-step instructions to guide you on each step of the way. Either treat yourself with a fresh and creative start for the coming new year, or get it to create wonderful gifts for your family and friends.
Join now