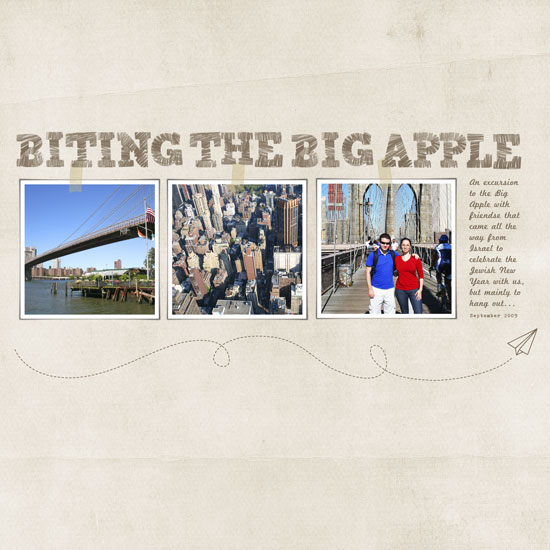 [
Fonts:
Erika Ormig, Marketing Script;
Digital Kits:
KD Frame Essentials 1, KD Digi Essentials (masking tape), KD For The Boy (background paper), KD Fly Boy (paper airplane), KD Stamp Alphas 1 – all by
Karla Dudley
.]
Today is National Scrapbooking Day and to jump start the day some creative bloggers and I have gathered together in a special blog hop.
Each of us is sharing a layout with her interpretation to the subject – "Cross Country Road Trip".
Go on and browse all the blogs to see their amazing layouts, to leave some loving and appreciative words behind and to participate in the drawings (On the table there are a copy of my e-book Unleashing The Creative Child Within You and My Mind's Eye LUSH minibook with papers and who knows, you may hop and find some more goodies in your way)…
We invite you to join us and create a layout (all paper, all digital, or hybrid) about a trip to anywhere in the 50 United States [or anywhere else if you've never been to the States] and to submit a direct link to your wonderful layout on Rosann's blog by May 15th at 11:59pm EST for a chance to win the goodies.
If you are new to my blog, make sure to pick up some of the FREE printables I am giving away each Friday. I'm sure you'd love yesterday's woodgrain journaling labels!
Blog Hop Order
Enjoy!