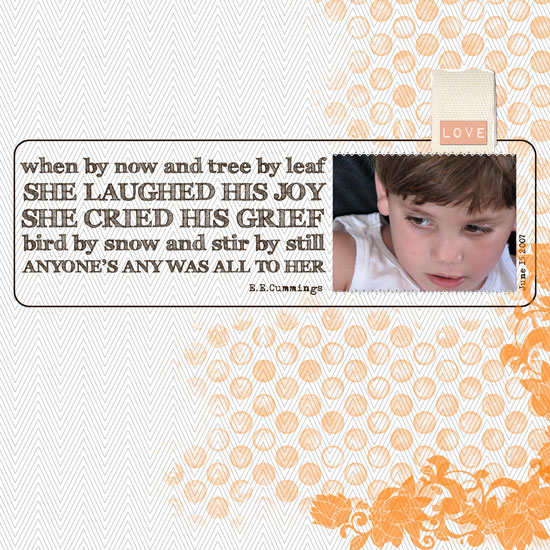 [Fonts: FFF Tusj, Adler; Digital Kits: Modern Marvel by Karla Dudley for the Daily Digi.]
I love reading poetry. There is nothing quite like the soul of a poet. Delicate and all consuming and it always shines through the words that are always chosen so carefully.
When I recently revisited the words of E. E. Cummings's poem I couldn't help but think about my big sister.
My sister's first born was different than all the other children. By the time he was a year and a half he could already solve simple math problems and by the time he was two, he had stopped speaking altogether. He didn't point and didn't sit still but had – and still has – the purest heart I have ever seen.
It is easy to focus on my nephew's angelic eyes and heart of gold, but when I read the lyrics of Cummings's poem I thought about the emotional struggles my sister is going through.
She laughs her son's joy and cries his grief and frustration. But most of all – ANYONE'S ANY IS ALL TO HER!
I can still remember how when he was 4 years old my sister suddenly burst into tears. I had no idea what had made her cry and then she said "He will never say 'I love you mom'". I was so overwhelmed by her simple but so profound concern and took it upon myself to teach him these words. I know he loves her dearly, he is a loving person, so I didn't mind how mechanical these words sound when they came out of his little mouth, and she didn't mind either. I hope.
It is difficult to understand how difficult it is for a mother of an 11 years old son to be thrilled when he types a full sentence on the computer. It is not easily understandable how an initiation of a simple conversation can yield such immense joy in a mother's heart. Thus I find that these words "anyone's any was all to her" depicts so well my sister's trials and turbulence.
I adore my sister's strength and endless capacity to love and understand.
Share
What poem or line of a poem to you find inspiring and reminding you of a person who is dear to you? Please share by leaving a comment.

Check out Creativity Prompt's new and unique self paced workshop: "Welcome Little One". This workshop will provide you with everything you need, and then some, to make a fabulous handmade mini album to record the first moments of a new born baby.